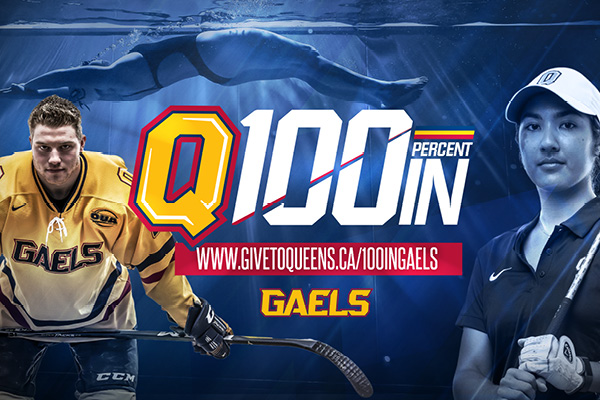 No one accomplishes anything great by themselves.
You may not think that something as small as $5 can make a difference, but collectively it absolutely can.
It could mean the best equipment, funds to travel to National Championships, extra team activities, exhibition games, or comprehensive training programs. The point is, 100% of donations from the 100% IN campaign will subsidize areas of need for your team.
What is the 100%IN - March Matchup Campaign?
The 100%IN - March Matchup Campaign is a competition amongst all Varsity athletics programs (teams and clubs) to attain the highest percentage of donor participation from former Gaels alumni (2010 – 2019) and current student-athletes. It is important to note that parents and friends of the programs are not included in the overall tally for the 100%IN - March Matchup Campaign.
A gift of any size to any athletics designation counts (minimum gift of $5 to be eligible for tax receipt)
The program with the highest participation rate from athletics young alumni and current student-athlete participation will receive $2,000. The second-place winner will receive $1,000, and NEW this year the team that reaches the highest total donations will receive $500.
Winners will be announced at Colour Awards March 24 and 25.
The Gaels are 100% IN...Are You?
Please find your Varsity Team or Club from the giving opportunities on the right of this page to make a donation that will go directly to support your team or club.